All of my posts have been very exciting to me so far but this post is simply very cool! Why? Because lots and lots of Jordan sneaker fans know of this shoe! I have not been a sneakerhead (meaning a crazy sneaker fanatic) but my fiance Gabe has been getting in to sneakers for however long now and he has told me so much about this one.
As you can tell by the title of this post, the cake I made this time is a Air Jordan 11 Retro "Bred" Grooms Cake! Belinda wanted to surprise her now husband Mike with an awesome Grooms Cake for their wedding and came up with this idea. She said that this was Mike's absolute favorite sneaker! We talked about several concepts but in the end she gave me full trust on the whole design. So I made an Air Jordan sneaker shoe box along with the shoe to display in front of the box.
Originally I was thinking of making an OG shoe box (meaning original shoe box) to go with the whole concept to give it an "old school" original look. Then I changed the shoe box to the ones that will be released with the Air Jordan 11 "Concords" later this year (December 23rd to be exact) because I absolutely
love the design of that box!!
To keep the original look of the box, I simply only changed the colors that were blue to red so it'll match the colors of the Jordan 11 Bred shoe. I tried to make the edible shoe to look as close as possible to the actual live shoe from the sculpting to the detailing of the laces, stitches, patent leather shine, and the carbon fiber plating. I gotta say, it was a challenge!!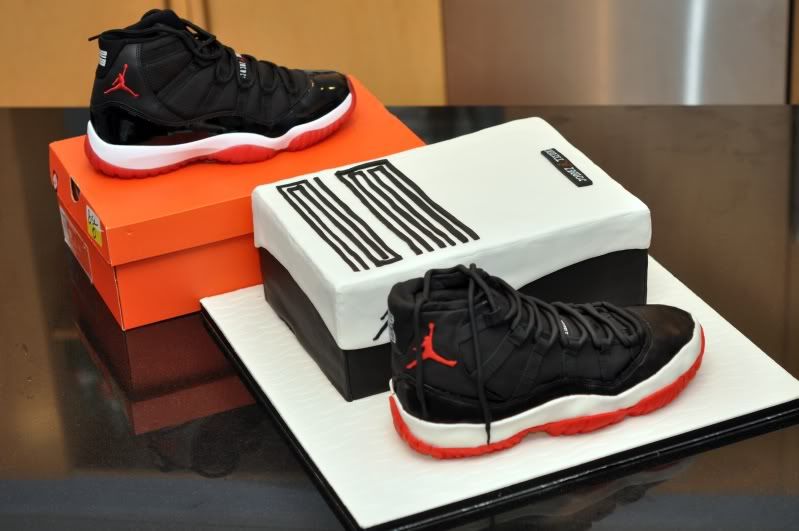 Here's a photo of the real Air Jordan 11 "Bred" sneaker (top left) next to my edible creation.
Working on some last details. You can kind of see the edible carbon fiber plating in this photo.
Here's some photos of when I just finished!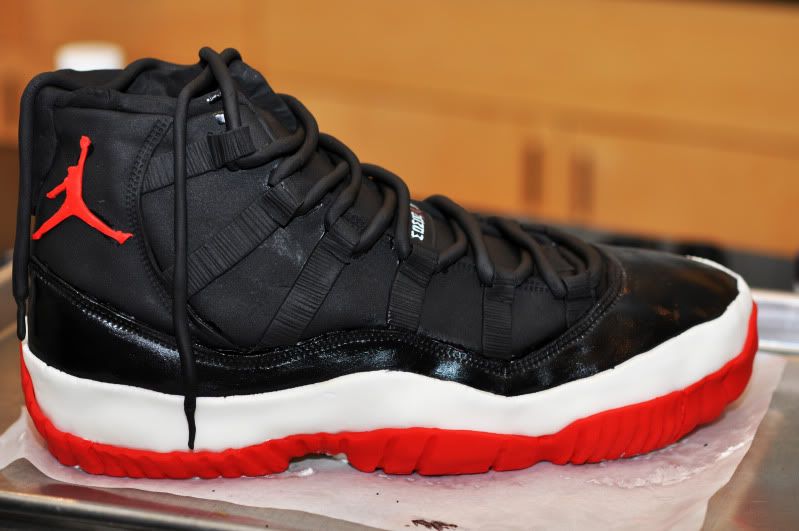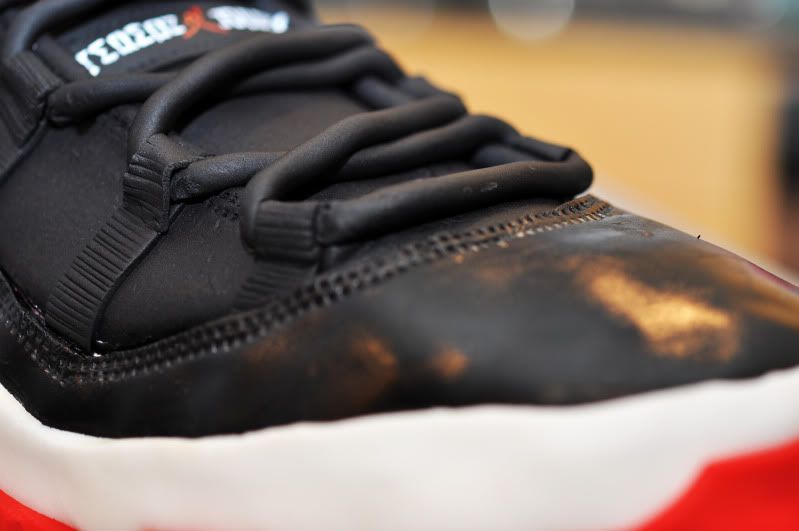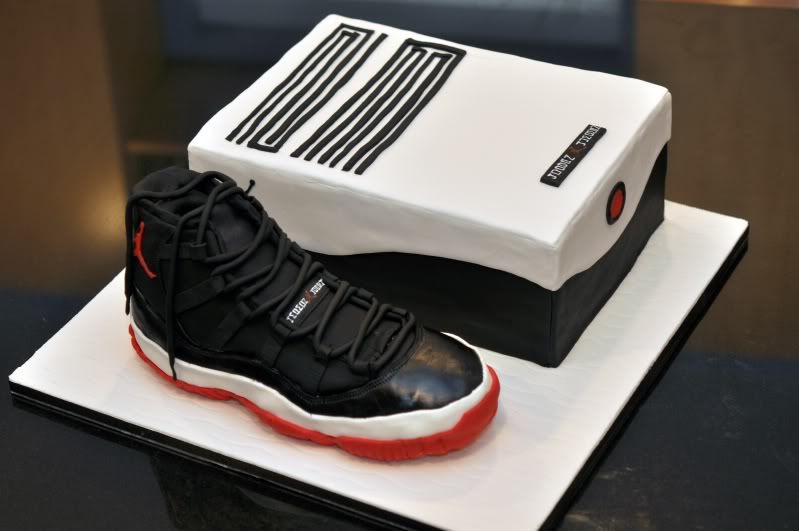 After making the shoe box cake and the Jordan 11 Bred shoe, I made the cake board white so that the overall "look" will bring out the shoe and the shoe box. Instead of just the plain smooth white board, I carved waves on it to give the board some texture.
This was one of the most fun and enjoying cakes that I've ever made. Even my Fiance Gabe didn't want to let the cake go. He said he would have saved it and not eaten it haha. After seeing how much my fiance loves this cake, it gave me the idea of making him one for our wedding.. We'll see.. =)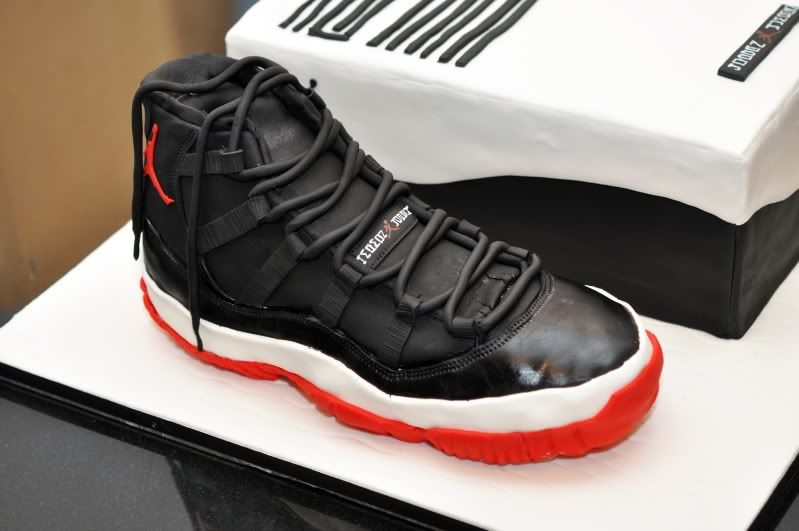 Look at that "patent leather" shine... its beautiful haha.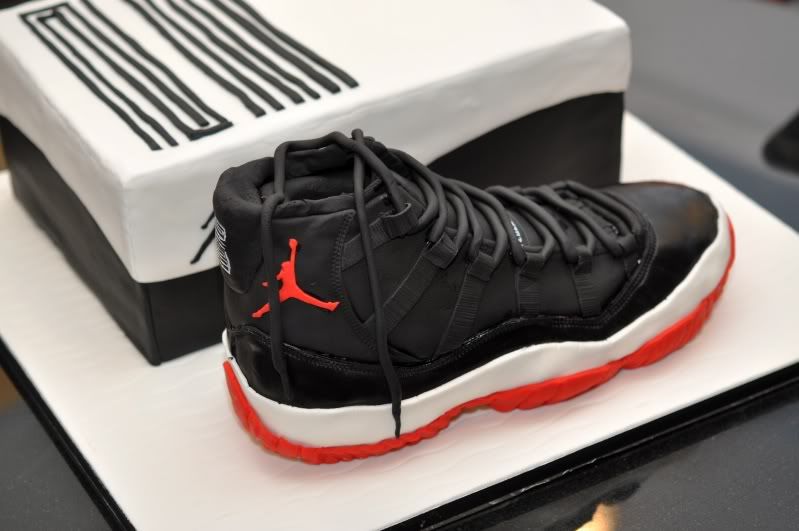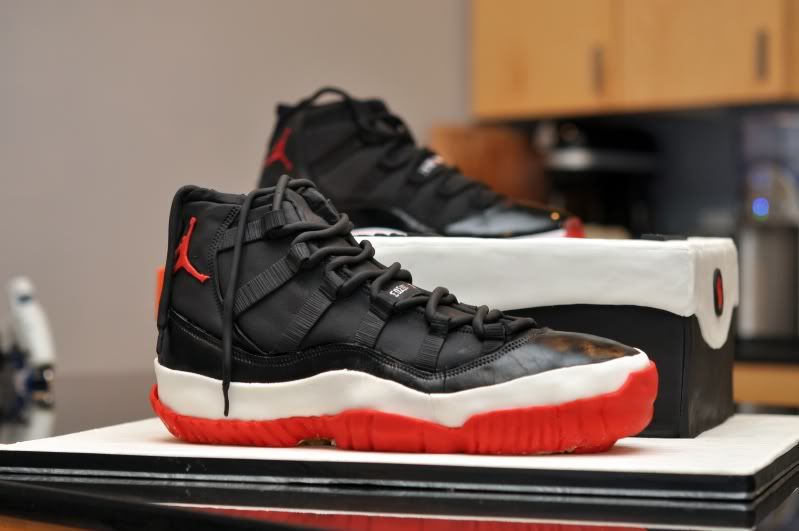 Overall I was satisfied and humbled by the outcome of my creation especially this being my first shoe cake ever! Most importantly, many thanks to Belinda and her very sweet surprise idea to her now husband Mike Medina, I was able to get my hands in making this incredible cake! Thank you guys for letting my creation be part of y'alls very special day! =)